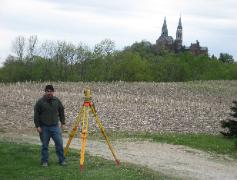 Welcome to Cornerstone Land Surveying!
Richard Simon is a Professional Land Surveyor and Owner of Cornerstone Land Surveying. He has been working in the surveying practice since 1997.
Rich was Awarded an Applied Science Degree in Civil Engineering Technology from Milwaukee Area Technical College on December, 2000 and granted Certificate of Professional Land Surveyor by the State of Wisconsin on May 5th, 2004.
Rich is happily married with three kids and currently resides in Town of Trenton.
Residential Land Surveying Company Servicing Ozaukee, Washington, Northern Waukesha, and Southern Sheboygan Counties. Emphasis on Cedarburg, Grafton, West Bend, Jackson, Port Washington, Germantown, Mequon, and surrounding local municipalities.